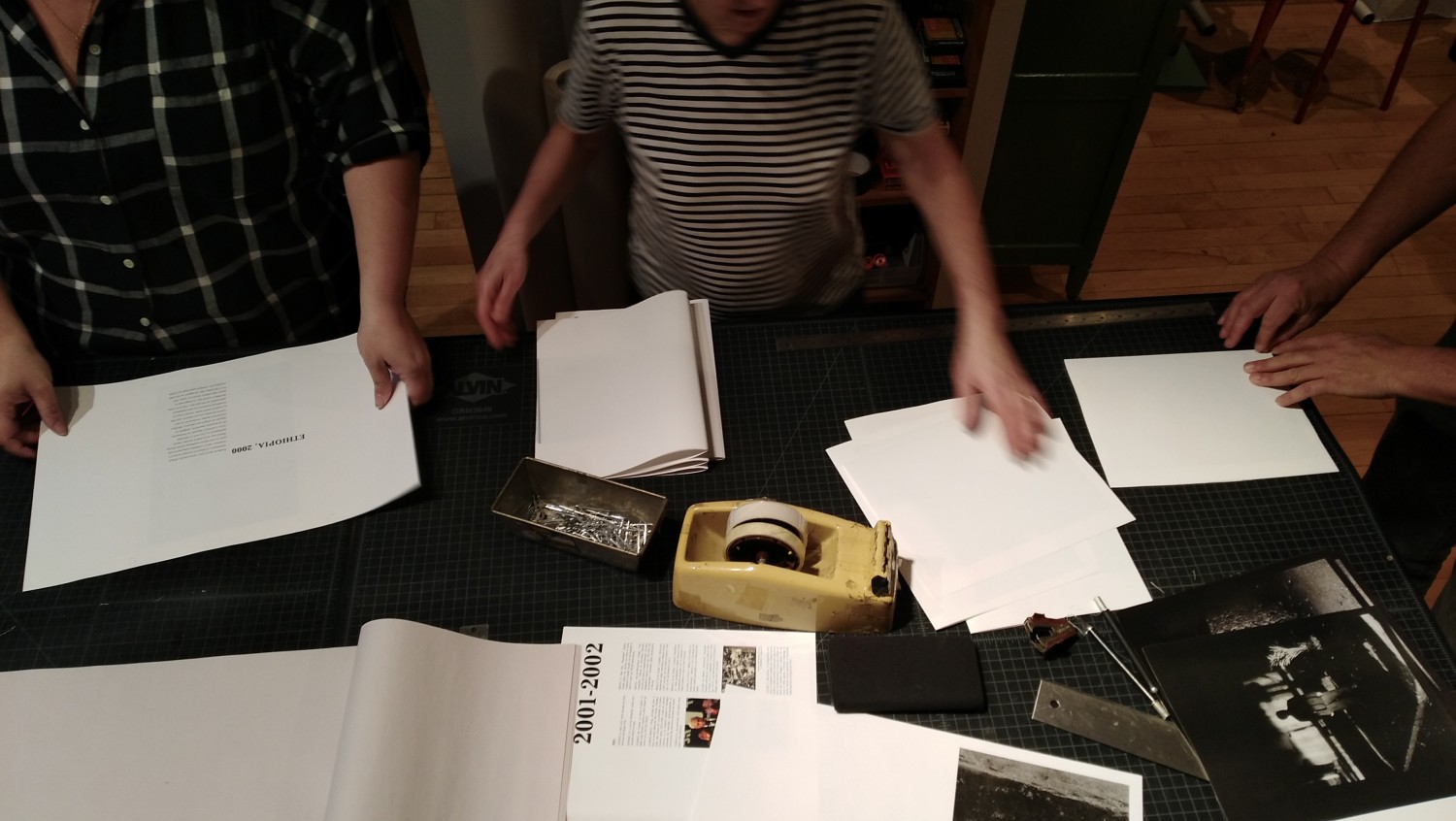 I AM A BOOK
workshop with Yolanda Cuomo
june 23-24-25, 2018
I AM A BOOK
three-day ​workshop with Yolanda Cuomo
june 23-24-25, 2018 (saturday-monday)
each day 10am-6pm​
max 8 students
​300 euros (plus 2018 membership)​
​the workshop will be held in english​ and italian
This workshop will teach the process of visual bookmaking and the photography book.
In class workshops will teach the process of photo editing, sequencing, story telling and visual pacing.
The participants will also explore book formats, page design, typography, and materials.
Each photographer should come with a book concept and working title.PHOTOGRAPHS
Please bring 30-50 small rough prints (12cm x 18cm) laser printouts are preferred.
We will use these photos to sequense the book by hand.
In addition, bring one or two finished prints to show the tonal quality of your images.
Also have on hand contact sheets and any additional images on your computer that we might want to consider.TYPOGRAPHY
As a reference bring in typefaces that you find interesting. You can find type everywhere : on the street, in magazines, books, the metro etc…
Take photos of your type, make laser printouts (20x25cm). Bring printouts to class.
This research will be a jumping off point for the typography in your book.INSPIRATION
Bring in 2 photo books that you love.
We will study the quality of printing, binding, cover treatment.
This, along with your found type,become the basis of your inspiration palette.will begin to create your palette of influences.
TOOLS
Please bring a Laptop computer with inDesign, Bridge, Photoshop.
Scissors, clear tape and double stick tape, glue stick, paper clips, X-acto knife, 24 inch metal ruler.
Sylvia Plachy's workshop "Where the thread leads" and Yolanda Cuomo's workshop "I am a book" both revolve around the making of a Photobook, with different emphasis on different parts of the process. Sylvia will be concerned with editing, sequencing, choosing book and image size and ways of enhancing the original project, while Yolanda's class will focus more on graphic refinements, image scale, typography and materials. Students from both classes will take home their own hand made accordion fold book dummy. On the second day of the workshop (sunday) the classes will join in a communal session / discussion.
Yolanda Cuomo is a designer, art director, and educator with more than 30 years of experience​ collaborating with artists ranging from Richard Avedon, Pete Souza, Gilles Peress, Sylvia Plachy and Paolo Pellegrin to Paul Simon, Twyla Tharp and Laurie Anderson.​
Cuomo and her studio, Yolanda Cuomo Design, were profiled in 2013 by the New Yorker's Photo​ Booth with a short film called "Let's Make a Book of This: Studio Visit with Yolanda Cuomo" and in "Profile of a Curatorial Master: Yolanda Cuomo" on Time Magazine's Lightbox.​
Time's profile noted that, "Yo (as all her friends and colleagues call her) has helped envision and produce some of the most striking and influential art and photography books of the past two decades, including Diane Arbus' Revelations, Gilles Peress' Farewell to Bosnia, Pre-Pop Warhol and scores of other titles."
​Other notable book projects include Pete Souza's Obama: An Initimate Portrait, Diane Arbus​ Revelations, Untitled and A Chronology, Peter van Agtmael's Disco Night 9/11, The Library of Jullio Santo Domingo, Andrew Moore's Detroit Disassembled, Richard Avedon: Performance, Avedon
Fashion: 1944-2000, September 11 by Magnum Photographers, Here is New York: A Democracy​ ​of Photographs, Malaparte: A House Like Me, and Sylvia Plachy's Unguided Tour.
In addition to book and exhibition projects, Cuomo designed the film poster for​ Don't Blink Robert Frank, Paul Simon's double-platinum record The Rhythm of the Saints; Laurie Anderson's Bright Red; and numerous books and posters for Twyla Tharp Dance.
Cuomo has designed more than 30 issues of Aperture Magazine, earning the 2004 National
Magazine Award for General Excellence from The American Society of Magazine Editors (ASME).​
She received Infinity Awards in the best publication category in 1991 and 2004; and for design in 1995, from the International Center of Photography. She received her BFA from The Cooper Union in 1980 and has previously taught at​ ​ the School of Visual Arts and Parsons School of Design. Cuomo has been adjunct faculty​ at New York University's Tisch School of the Arts since 1996.